Home Center 2
Home Center 2 (HC2) is the brain to the Fibaro Intelligence System and can be used with other existing Z-Wave automation devices. HC2 was designed and developed by our engineers, giving us the ability to implement many unique features never seen before in other Z-Wave gateways. HC2 redefines Z-Wave based home automation and introduces real Home Intelligence.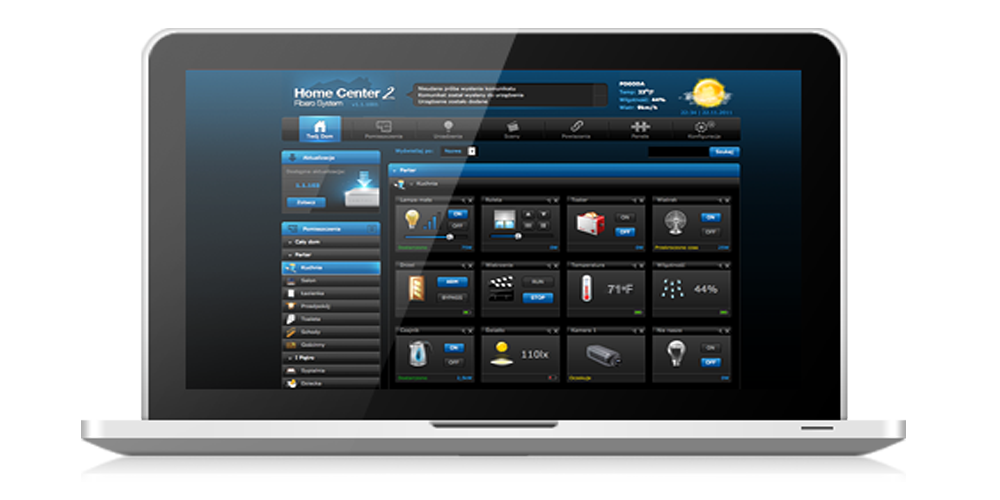 Home Center 2 by Fibaro isn't just an electronic device. It's also well designed, innovative and user friendly interface, featuring functions never seen before.
Geo localization
Home Center 2 gives You another unique functionality - finding Your family members. Now You can always know where are Your children, without the need to call them each 5 minutes. Home Center 2 will get their localization for You.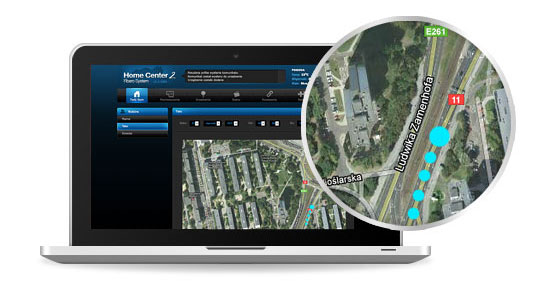 Home Center 2 shows Your family member route and current position on a map.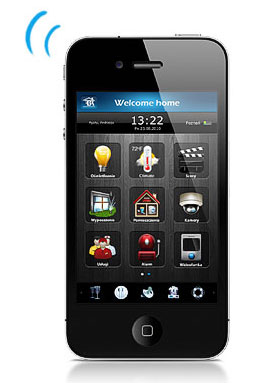 Fibaro Mobile Application determines family member localization and informs Home Center 2 about it

Home Center 2 connects to mobile phones with Fibaro Mobile Application installed to check their current position..
The instlallation process
The main premise behind the Fibaro System is the possibility to install it in any house, apartment or office building, without damaging the infrastructure. We offer you full control over your house, without the need to damage walls, modify switching stations or exchange switch-keys. It is our system that adjusts to your requirements, and not the other way round. It is one of the many differences which sets us apart from our competitors.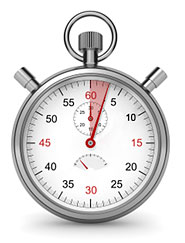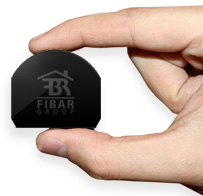 Simple and non-invasive installation
To ensure your safety, an electrician or a trained person should install the system. The picture below shows an example of the installation process for one of Fibaro's modules.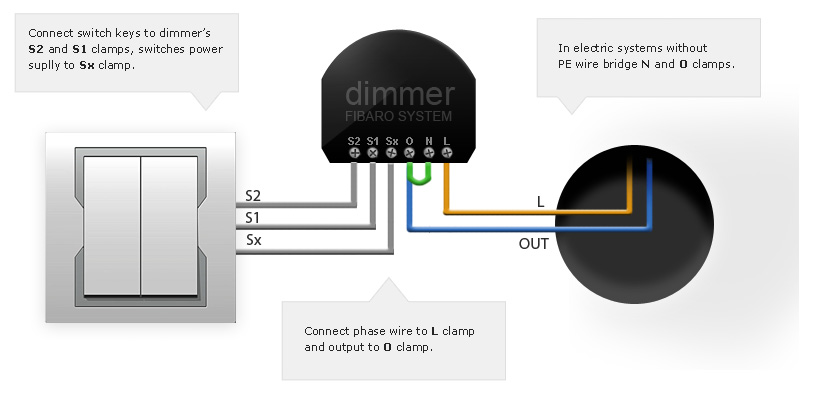 Inspired by nature
Beauty comes from nature, advanced technology from people. FIBARO extracts the essence of both and creates perfection. In conjunction with the immutable laws of architecture and the latest technology, the FIBARO Motion Sensor was created – your eye on the home. Inspired by the beliefs of the ancient Egyptians, we have designed the world's smallest, wireless motion sensor and shaped it like a cat's eye. For centuries the cat symbolized a guardian of people and the home. Additionally, it is known as a predator with excellent eyesight, above average hearing and exceptional vigilance. The FIBARO Motion Sensor is as sharp as a cat's eye; it sees wider and farther so it can notice what you are unable to see. It has a wide field of view, long range and is incredibly vigilant. Not only will it make your life more comfortable, but it will also make you feel safer.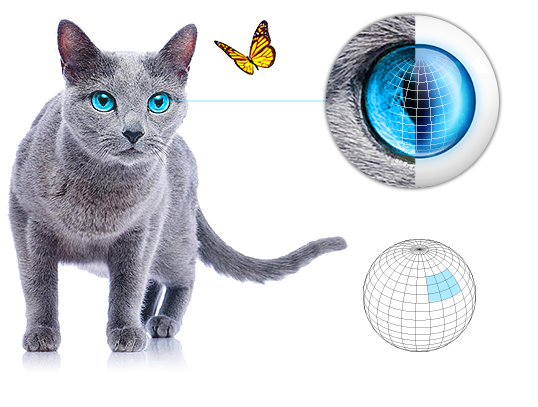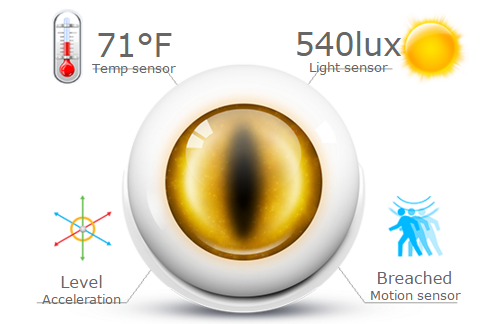 Multisensor
In taking up the challenge of innovation, we have developed an intelligent work of art that combines four useful functions to give you MORE. This tiny device, apart from detecting movement, measures the current ambient temperature, intensity of light and vibrations thanks to its built-in accelerometer. The FIBARO Motion Sensor expands the comfort of your reality. Create custom scenarios, so you can forget about nasty situations and enjoy the luxury of safety - its watchful eye will detect any intrusion or attempted sabotage, fire or other threats. Now you know and see more!
Colour announces movement and temperature
Motion and temperature The multicolour LED pupil of the FIBARO Motion Sensor informs family members if it has detected any motion or the current temperature of a room. Set the colour and its intensity to your liking and, as soon as you enter a room, you will know what the temperature is there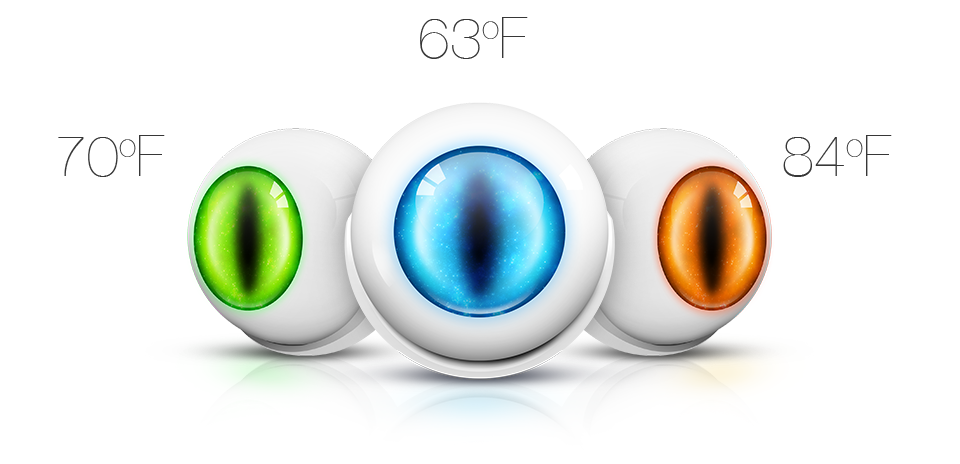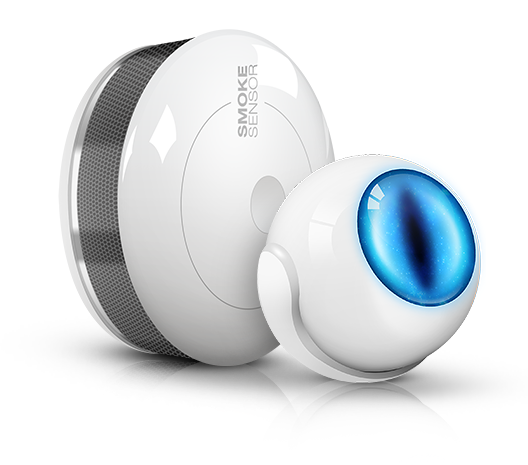 Small is beautiful!
The world's most advanced technology has been enclosed in a flawless white casing. With a diameter of less than 44 millimetres, you will love it at first sight!

Intelligent object recognition
One of the main features of the FIBARO Motion Sensor is its excellent ability to detect even the slightest motion; nothing escapes its attention. Given that all rooms are different, you can also adjust the Motion Sensor's sensitivity to suit its location in the house, your individual needs or a particular situation.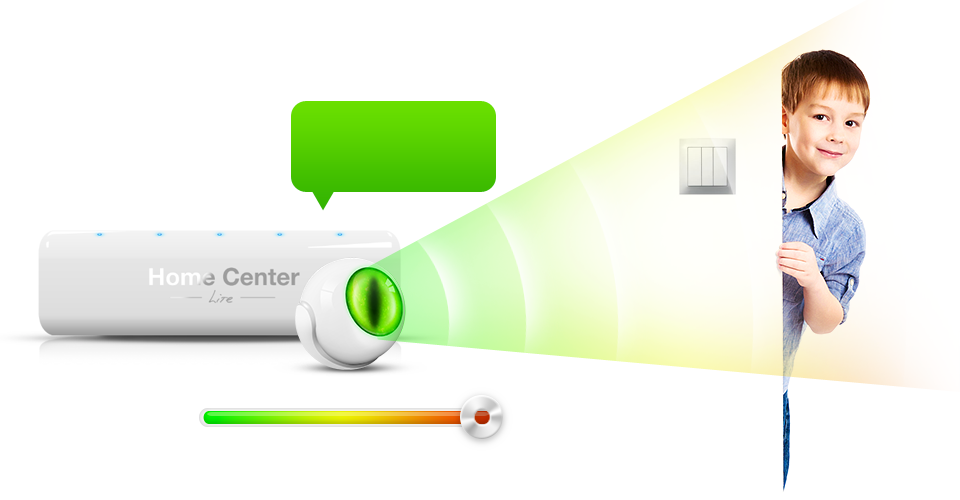 Watch your home and your loved ones
Wondering what's going on at home when you are away? While you are at the office, or on a business trip, the FIBARO Motion Sensor will watch your home and protect your loved ones. In addition, the FIBARO Motion Sensor monitors how much time someone spends in a room. So you will be informed when your kids spend most of their time watching TV in the living-room instead of doing their homework in their rooms, and then you will be able to turn the TV off remotely.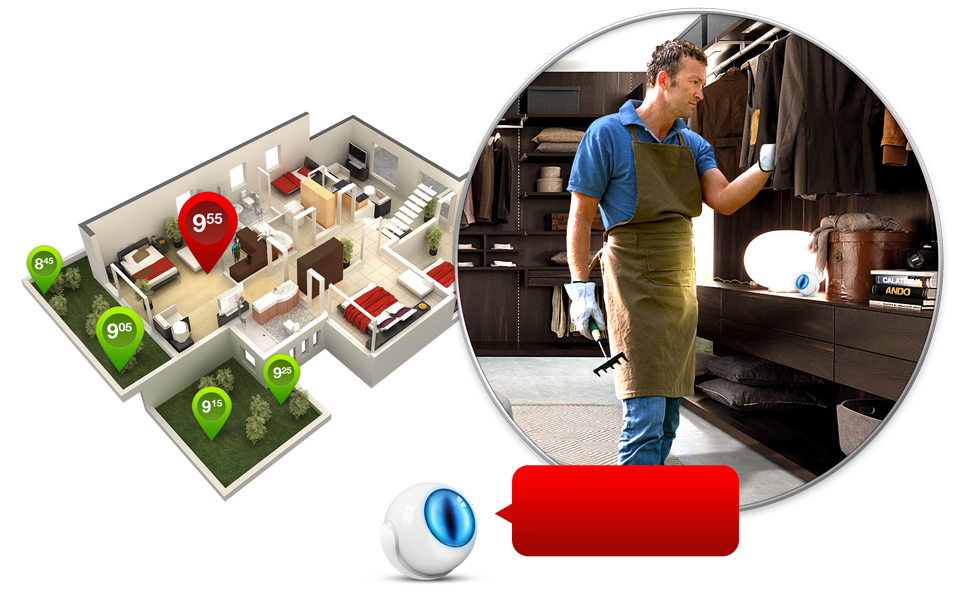 Count the guests
After installing FIBARO Motion Sensors on both sides of the entrance to your home, you will always know how many people entered or left your house, or a given room. No need to worry about a teenager being home alone. The FIBARO Motion Sensor will tell you what time he or she went out, came back home, or how many visitors he or she had. .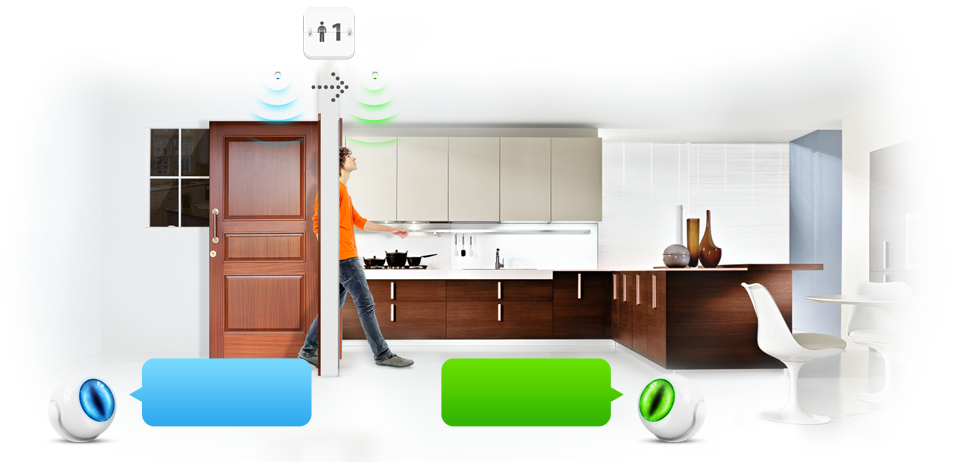 Guests arrived? The system will look after them.
Family meeting, dinner with friends, or a party – the FIBARO Motion Sensor will make sure your guests feel comfortable. Once the system knows there are more people in the house, it will turn the ventilation on, so there's enough fresh air
It learns your habit
The FIBARO Motion Sensor's ability to analyse your habits allows the system to take certain actions automatically for your comfort and savings. You can connect two controllers operating within one FIBARO System to manage your home, based on the information collected by the controller installed in your office. As long as the Motion Sensor installed in your office recognises you are still there, the controller installed in your house reduces the heating temperature until you return.
The house wakes up with you
The FIBARO Motion Sensor makes every morning wonderful. When you wake up, the sensor will start a
pre-programmed wake-up scenario. The temperature will be set how you like it, windows will open to
give you a breath of fresh air and blinds will open to let the sunshine in. Meanwhile, the smell of fresh
ground coffee will waft from your kitchen...
It reminds you to arm the alarm
Did you leave the iron or lights on when leaving in a hurry? Forgot to arm the alarm? No worries! The FIBARO Motion Sensor will detect the lack of motion in the house and inform the Home Center about it. Then the pre-programmed scenario will notify you, or automatically arm the alarm, close the windows, turn off the lights and all unnecessary devices, and lower the heating temperature.
There is no one at house since 15min. Arm the alarm?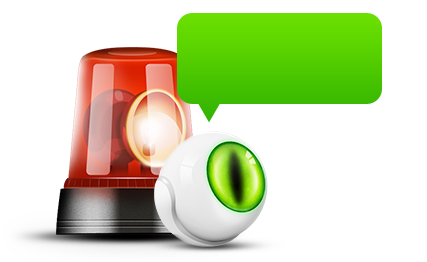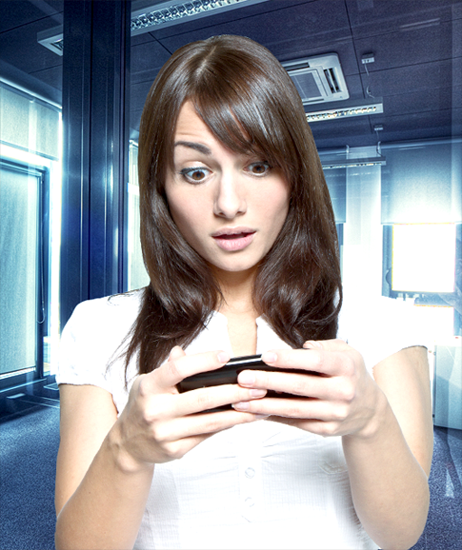 Mobility is its greatest feature
The FIBARO Motion Sensor is powered by a long lasting battery, allowing the device to operate for up to
three years. The absence of hard wires in favour of wireless Z-Wave communication with the main
controller, enhances the device's ability to operate anywhere inside your house.
Attach it anywhere
TThe clever holder allows you to put the sensor anywhere,
or fix it permanently to a wall, ceiling or other surface
. You can change the sensor's location whenever you need to
For the youngsters...
The FIBARO Motion Sensor will wait and turn off the bedside lamp after your child falls asleep. Your little
one will fall asleep peacefully, without stress, and you won't have to worry about the bills.

When she wakes up I will turn the light on with
10% brightness and play her favourite lullaby
Tamper protection
To keep you and your family safe, the FIBARO Motion Sensor has built-in tamper protection. Any
attempt to relocate or change the sensor's view angle will trigger the alarm and the system
will inform you by sending a message to your mobile devices.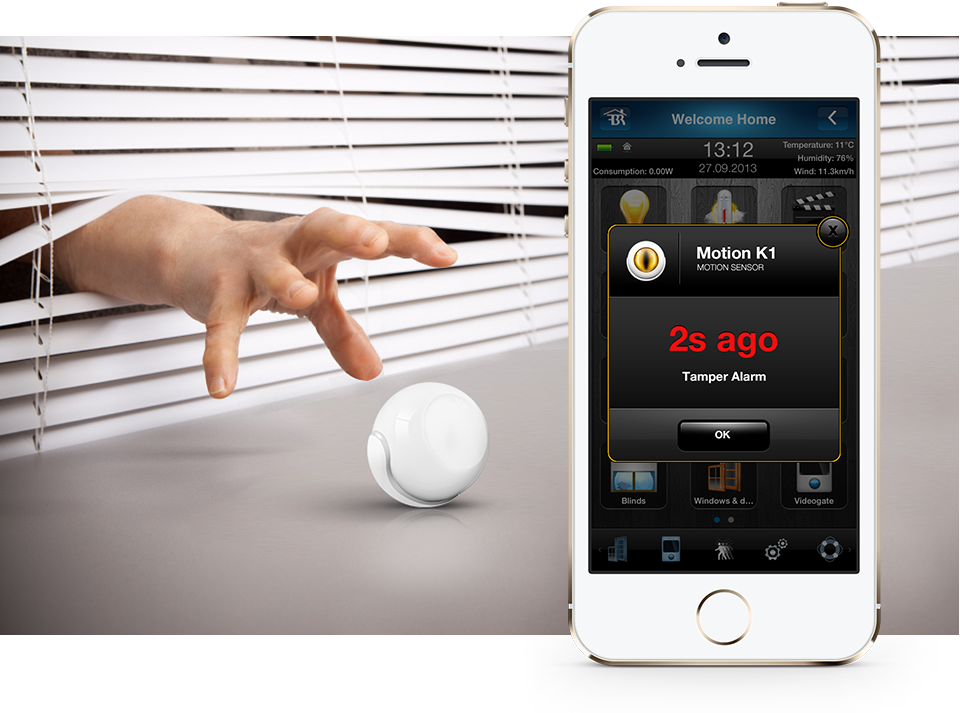 Detects earthquakes
Earthquakes happen quite frequently, and even a minor one can be highly dangerous. Thanks to its built-in .accelerometer, the FIBARO Motion Sensor will detect .even the slightest vibrations, which you would not .be able to feel yourself. A notification sent by the system will warn you against the impending threat, giving you time to take the necessary precautions .
Temperature correction
A comfortable temperature is crucial for our well-being. The FIBARO Motion Sensor has a built-in temperature sensor to meet all your requirements . The temperature at ceiling level is different to that close to the floor. All you need to do to get the heating temperature right is to measure the temperature at floor level, using any sensor, and tell the Motion Sensor to compensate for the difference.
Great cooperation with other devices
The FIBARO Motion Sensor works perfectly in any situation and provides you with endless possibilities when integrated with other devices. In the evening it will tell the system to turn the lights on immediately after the motion is detected. Consequently a camera will be able to transmit clear image to your mobile phone. You can relax, FIBARO System will guard your home.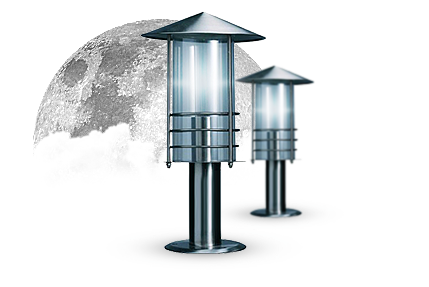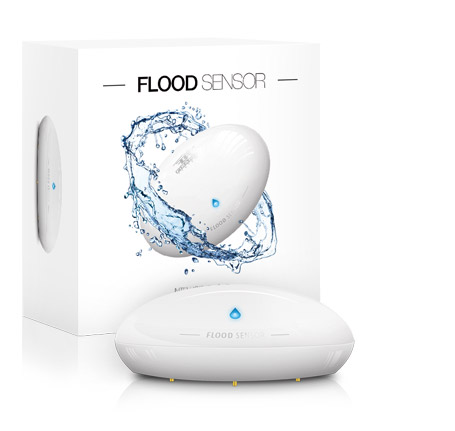 The most beautiful and functional flood sensor ever made
Fibaro Flood Sensor – futuristic design, compact size, and a wide variety of additional functions. Fibaro Flood Sensor is simply remarkable! This unique device can guard you and your family's safety. With its advanced technology and precision, the Fibaro Flood Sensor will alert you of a threatening flood, or a rapid temperature rise or drop. All while being maintenance-free without the need for professional installation.
In the beginning there was a drop of water...
Water is the most common substance in the world. It gives life, but it can also take it away. Water allows us to enjoy each day and sustained a great feeling of refreshment. The importance of this substance, covering 70% of the world, is so great it inspired us to pay her tribute. The design of the Fibaro Flood Sensor was inspired by the perfect water drop. Every single drop, just like the modules of our system, can exist individually or they can connect with one another, forming a coherent ecosystem. The shape of a water drop is perfect and flawless, therefore our sensor's enclosure had to look the same. The Flood Sensor is made of high quality, white, glossy plastic and is perfect in every detail. It's design is extremely functional and the technology gives you endless possibilities.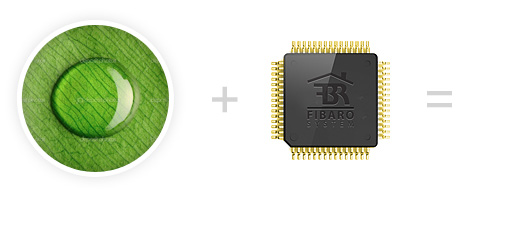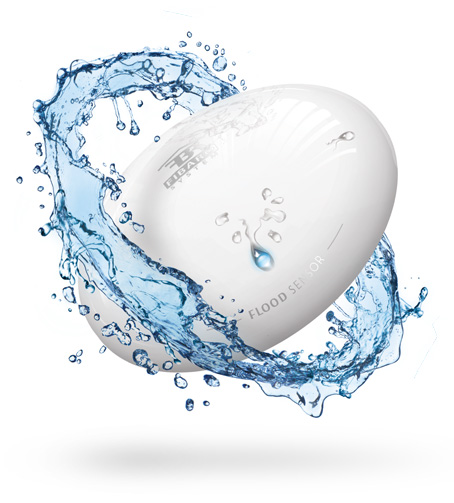 One sensor, plenty of possibilities
Our Flood Sensor is a totally uncompromised device. It can be battery or VDC powered, depending on the operating location. The Sensor will work on 12 or 24 VDC. Thanks to the output terminal, Fibaro Flood Sensor can be integrated with any alarm system as well. Input terminal allows for connecting an external contact probe for using the Flood Sensor in places with limited accessibility. .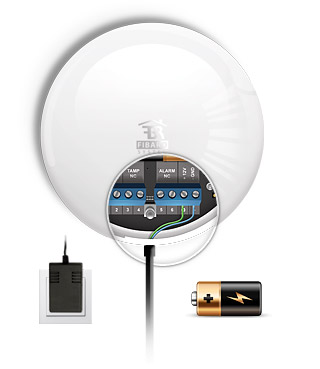 Hard wired Power or battery
You can power the Flood Sensor by 12/24 VDC or a battery which will last 2,5 years.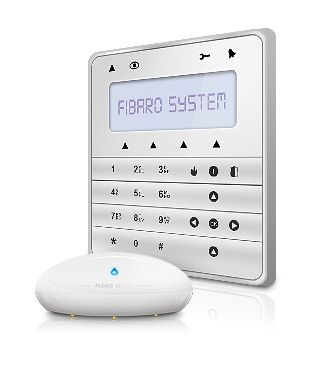 Alarm systems integration
The Sensor allows for integration with almost any available wired alarm system on the market.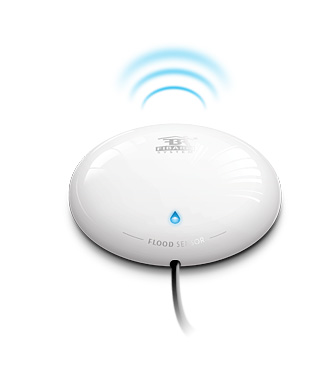 Wired or wireless
The Sensor allows for sending alarm notifications via wires or wirelessly.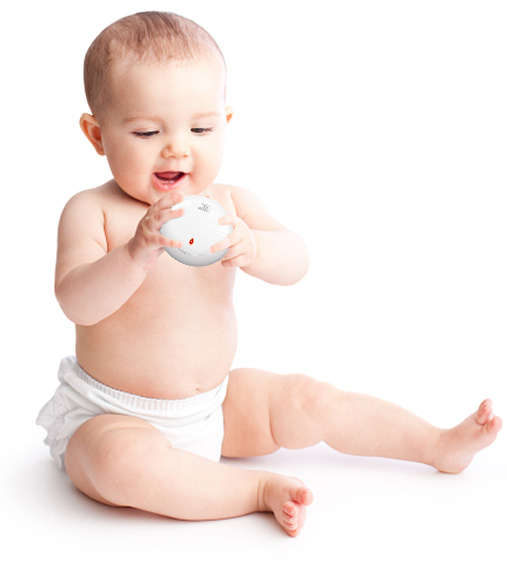 Dual Tamper protection
Our flood sensor is beautiful, which makes it desirable to grab and take a closer look. We know and completely understand this. Any movement or relocation can stop the sensor from serving its role, that's why it will be detected thanks to the built-in motion detector. Any attempt to open it will be detected resulting in a report being sent to the main controller as well. Mind you, this is a very important device, bearing huge responsibility, monitoring our home and helping us react quickly..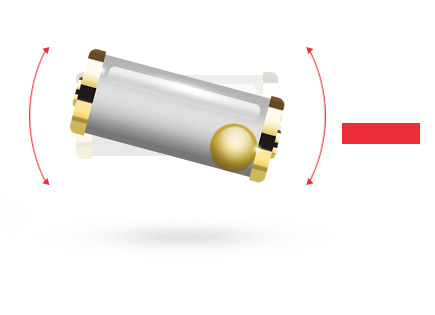 Wherever needed
It's crucial to quickly detect potential threats of a breakdown. With the Fibaro Flood Sensor's compact size, various powering and alarm system communication possibilities, you are guaranteed to be the first one to know about a breakdown and flooding threat. The Sensor may be installed in hard-to-reach places. It can work in any location you need. Even if it can't be installed in the precise spot needed, you can always connect a wired probe to detect the leak in its best probable location.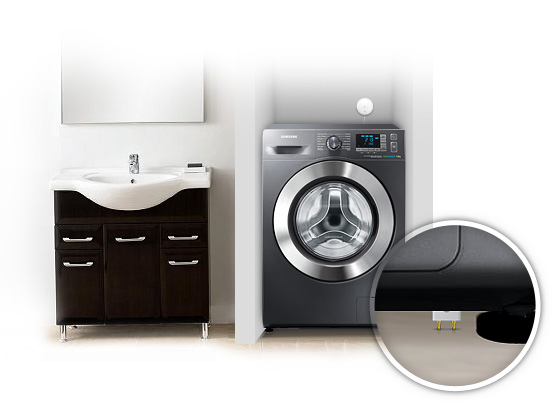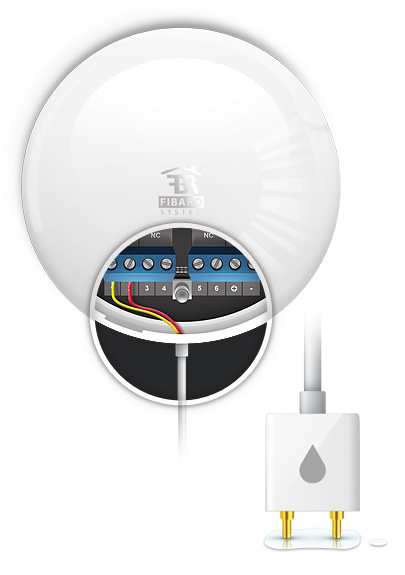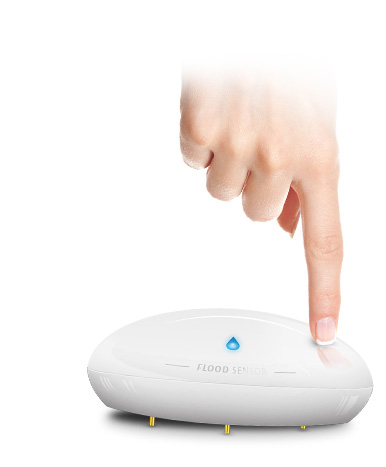 Gold telescopic probes
Fibaro Flood Sensor is equipped with three ultra sensitive probes, plated with 24-karat gold. Sophisticated telescopic mechanism allows for placing the Sensor in any location, even on an uneven surface. Gold plating prevents the probes from corroding and provides the best precise liquid detection. All this allows you to respond quickly, before the breakdown outcome gets serious.
Opened enclosure alarm
For safety reasons, Fibaro Flood Sensor's enclosure is protected from being opened, turned off or destroyed. Detecting any tampering will result in household members being notified by SMS, Push or e-mail.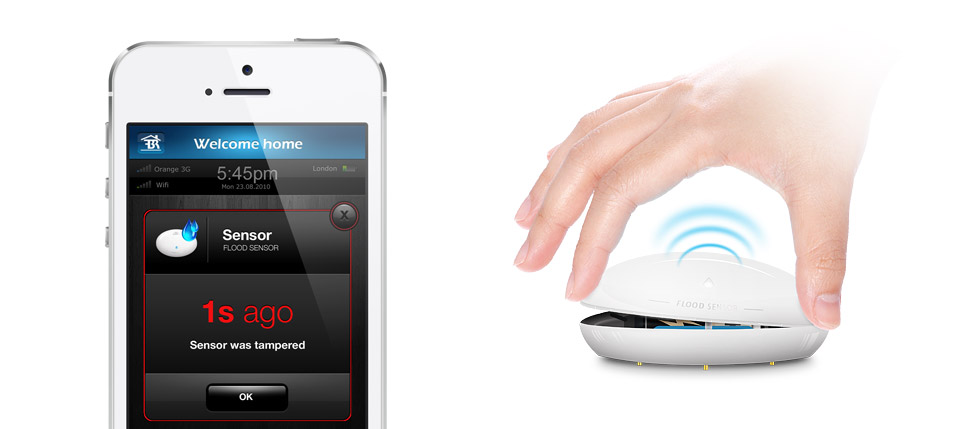 Visual Colour Display
One look is enough to find out what happened, thanks to the coloured indicator light. Depending on the Flood Sensor's built-in LED illuminated colour, you will know whether the Sensor has detected water, or a decrease / increase in temperature. With its built-in Z-Wave range tester you can easily determine whether the place you chose for the Sensor allows for communicating with the main controller or maybe you will have to use an external wired probe, to ensure the Sensor's proper operation.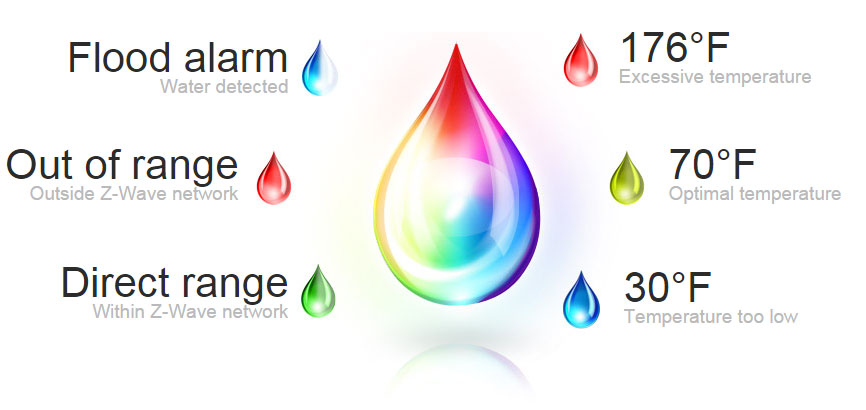 Safety first
Even before our washing machine and bathtub give us a small flood, various plumbing gives us some warnings, so we should keep a closer eye on them. Small leaks by the bathtub drain or a tiny puddle next to the washing machine drain, definitely should peak our interest. However what to do when the tub is already built in, and leaks are too small to be seen? It's better to be safe than sorry, and set up a Fibaro System. Flood Sensor is a perfect solution in any location that we might suspect a leak to occur, even if access to the location is very difficult. Such a place might be in a built-in bathtub by the drain, built-in washing machine or dishwasher. Install the Fibaro Flood Sensor in hard to reach areas and have peace of mind. If even the smallest leak will appear, you will get advanced warning on your smartphone and you'll be able to call an expert. .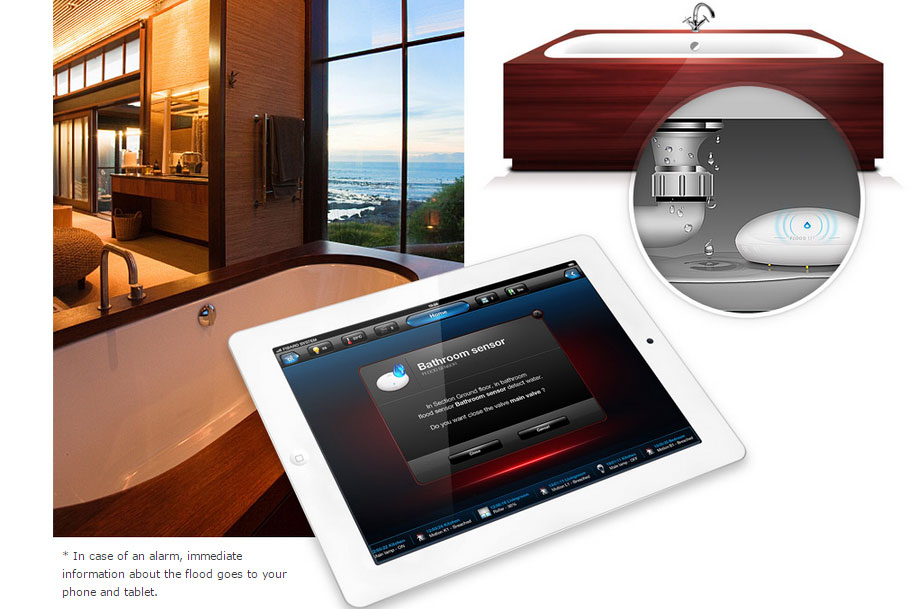 Difficult to submerge
The sensor is designed to work in the toughest conditions. It works properly at low or high temperatures, from 14°F* to 203°F*. It can handle any type of flood, whether it be fast or slow. The enclosure is waterproof, allowing for direct contact with the liquid and prevents submersion which would cause it to stop communicating. Only this type of sensor can guarantee your safety. .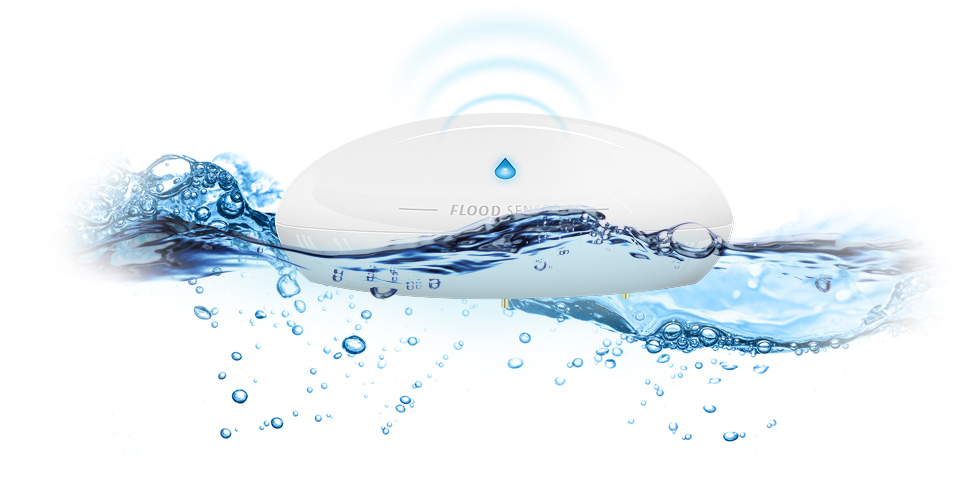 Rapid response
Flooding threat detected by the Fibaro Flood Sensor may result in Fibaro System automatically responding by closing water supply to prevent damage. It's enough to install a solenoid valve in your hydraulic system. The System will be able to operate it automatically via Fibaro Relay Switch connected to it. The Fibaro Flood Sensor in couple with a solenoid valve and a Relay Switch module, means a peace of mind for you, and safety for your home. .
...shut down the water supply..."
Underfloor heating
Floor heating is an amazing comfort for people and unfortunately a nightmare for the individual to control correctly. It is very difficult to determine the optimal temperature and turn off the heating at the right time to avoid uncomfortable temperatures. Thanks to the integrated temperature sensor, the Fibaro Flood Sensor will help you manage your floor heating. The Fibaro Home Center 2 will ensure that the temperature is ideal for your family's comfort, all while being as energy efficient as possible.
Did you know that...
Fibaro has a Universal Sensor that can be combined with an appropriately secured DS18B20 temperature sensor which can then be mounted under the floor surface and even covered with concrete
It will prevent icing
Because the Fibaro Flood Sensor has no problem handling the harshest conditions, You can easily use it in front of Your house to control the temperature of your driveway. If your driveway is sloped, even the smallest amount of ice can cause your car to skid when you are leaving your garage. Icing can cause a lot of unnecessary accidents. The Fibaro Flood Sensor was perfectly designed to work with warming mats to prevent even the smallest formation of ice around your house. .
...and helps you detect a fire
It's not afraid of extreme temperatures. Any sudden temperature change will trigger an alarm in the control panel* and the household will be alerted about it immediately on their mobile device. Thankfully the Fibaro Flood sensor can help detect a fire in its early stages, especially if there are any unknown problems with your current fire detectors. The Fibaro Flood Sensor is the perfect additional level of support for your fire alarm system.

A Perfect Combination
Advanced device associations and extended scenes will allow Your Home Center 2 Control Panel to independently take appropriate steps immediately after detecting a risk of flooding or fire. Even after the smallest liquid detection near the washing machine, the Flood Sensor will send a signal to a Relay Switch which will cut off the solenoid water valve, and disconnect the washing machine which is connected to a Fibaro Wall Plug. In case of fire detection, a Relay Switch disconnects the solenoid gas valve, the control panel ensures lights that mark your escape route are illuminated, and the ventilation system runs at maximum level to get rid of the smoke. These are just some of the possibilities when you associate modules and devices in the Fibaro System.
..reaction adjusted
to your preferences..
Wireless Update
Fibaro Flood Sensor has been designed to get firmware updates automatically without any need for action taken from the individual user. Automatic software updates gives you convenience and piece of mind with the Fibaro System.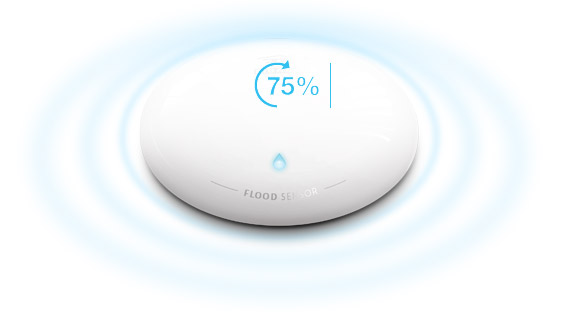 Built in range tester
For your safety and security, and to make sure the flood sensor is working properly, it has been equipped with a built-in Z-Wave network range tester. Communication in wireless Z-Wave mesh network lets you stay connected with the control panel over a long distance and through indirect connectivity, using other Z-wave modules. Built-in LED will allow you to easily check if the sensor has a good range and can communicate with the Fibaro System or requires a different location. .

Direct
Routing
Out of range
Door/Window Sensor
The Door/window sensor is a battery powered reed sensor. Its operation under the z-wave standard guarantees compatibility with the Fibaro Intelligent System and other Z-Wave gateways. The sensor expands the capabilities of the system by monitoring the opening of doors, windows and garage doors. It is used in automatic light control, access control and home security systems. Installation of the Door / Window Sensor in your home increases the safety and comfort of its inhabitants. It also eliminates the risk of high fees for heating or air conditioning. In addition, the module can be equipped with a temperature sensor, and use the built-in binary input.
Functionalities:
The Door/window sensor combines the functionality of 4 devices:

Reed
sensor

Binary
input

Temperature
sensor

Scenes
switch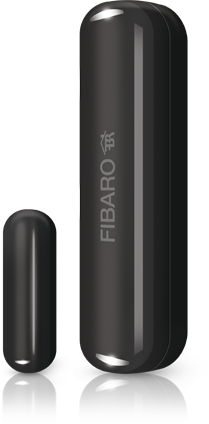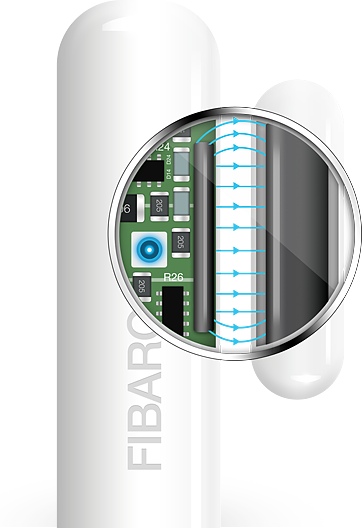 1) Reed sensor
Installation of reed sensors in your home will provide the HOME CENTER 2 with additional information, which can be used to control other components within the Fibaro system. The module checks the condition of the opening and closing of any window or door. An opened window canl prevent the system from launching heating or air conditioning in a particular room. Therefore, you will not be exposed to unnecessary costs. When mounting reed sensor on the front door, you can turn on the lights automatically when opening the door and/or run a pre-programmed scene e.g. "Return home". In addition, the Door / Window Sensor can be used as an unauthorized intrusion alarm sensor. These are just some of the capabilities of the Door / Window Sensor.
Applications:

Door & Windows

Garage
door
Gates
2) Wireless entry sensor
The Door/Window Sensor may be used together with the HOME CENTER 2 to control other features. Once the Door/Window Sensor input is connected with a typical wall switch it can control other devices within the Fibaro system. The idea behind it is to enable the user to place a previously unplanned switch in a chosen location without ever having to wire cables. The number and location of existing switches no longer limit the arrangement of your interior. The Door/Window Sensor can easily and non-intrusively take up the role of this element of the home electrical system.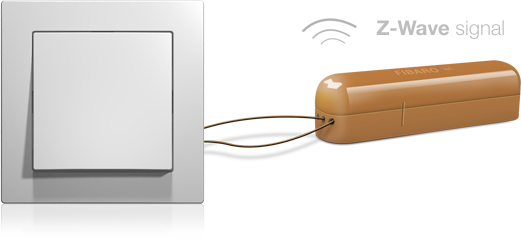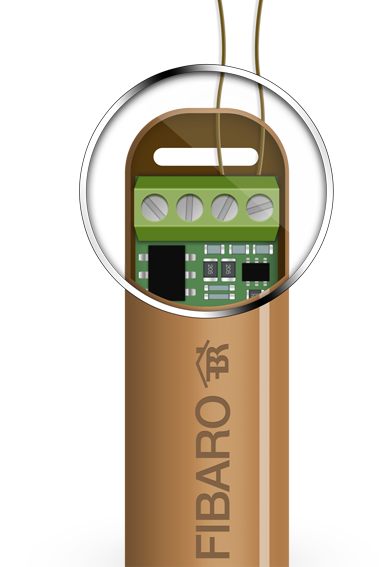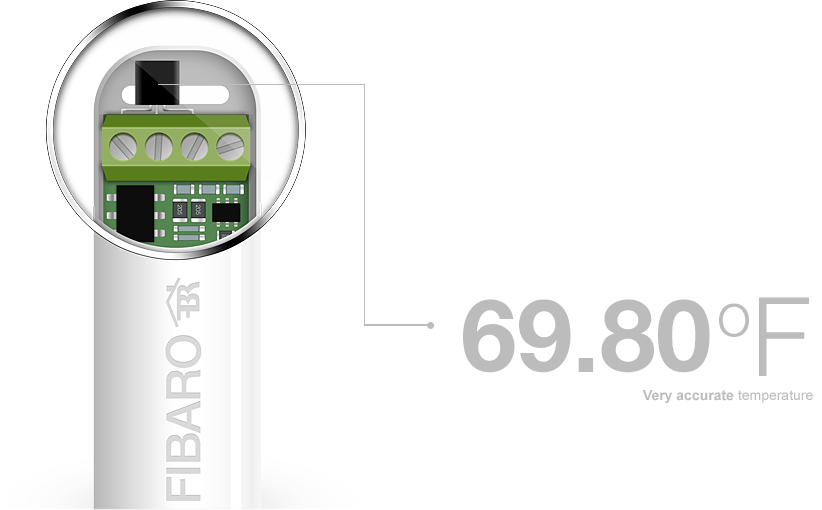 3) The Door/Window Sensor
The Door/Window Sensor module also works with the DS18B20 temperature sensor (sold separately). This tiny element is installed in the module inputs and added to the Fibaro System. Its installation is very easy. Simply place three leads into the inputs and secure them using the screws. The temperature sensor can greatly expand the number of features available with the Home Center 2. The reed sensor feeds the Fibaro System with information about an open door or window allowing the temperature sensor to collect the necessary data for automatic ventilation of a room without excessive cooling. The temperature sensor may also be used during the planning of a temperature profile at the heating panel.
4) Pre programed scenes switch
The Door / Window Sensor has a unique feature in which it can automatically trigger pre-programmed scenes. To start a scene on the level of electrical installation has been difficult until now. It required a Fibaro module, previously installed in an electrical device, which would then start a scene. This solution was not intuitive enough so to meet customer demand we gave the Door / Window Sensor the additional functionality to start scenes. Simply connect a traditional light switch or any sensor (e.g. motion detector) to the FIBARO module to trigger a pre-programmed scene to start. Therefore you can create a wireless, battery powered switch for multiple devices ready to work within a short time.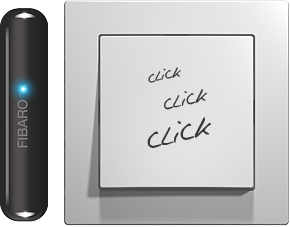 Applications:

Button "leaving home / homecoming" as on/off in the pre-defined devices.
Connect a traditional switch to the FIBARO module and indicate a pre-programmed scene in HC2 to start. Make a number of clicks on switch an indicator to run a specific scene. .
Switch, which in conjunction with the RFID reader (e.g. car module) will open the gate to the property, raise the door to the garage, start ventilation inside, turn on lights on the driveway and the road to the house, and finally closes the gate.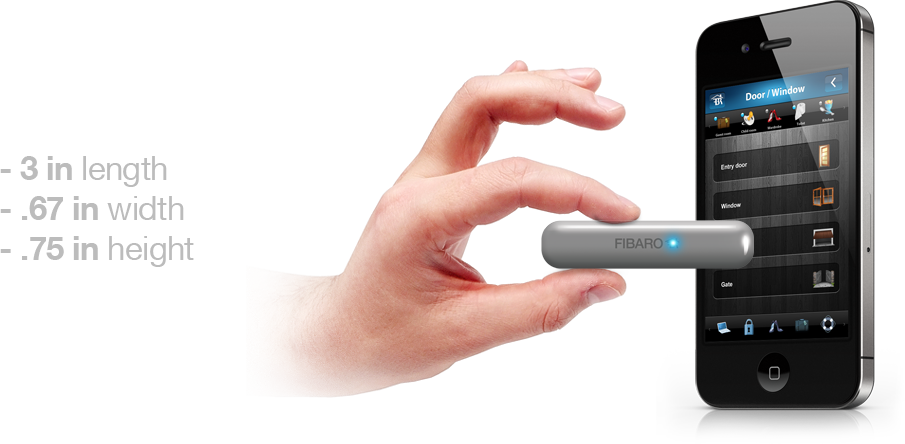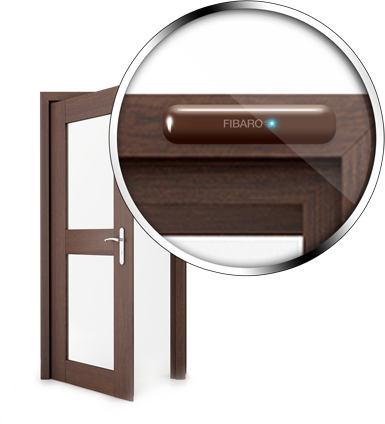 Easy and fast installation
Installation of the module is very simple. Just remove it from the box, open the case, remove protective film on the battery and stick it on the surface with the double-sided tape (included). Low power consumption enables up to 2 years of battery life. The system will notify you in advance if battery becomes low. Current battery consumption is always visible in HOME CENTER 2 configuration panel.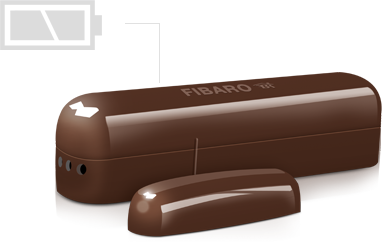 Intuitive installation
The user-friendly interface ensures an easy and intuitive way of adding devices to Fibaro System. Door/Window Sensor installation is extremely simple and does not exceed 3 minutes.
Adding sensor to Home Center 2
1) Go to the DEVICES section and click the "Add" button.
2) Home Center 2 will be set to LEARNING MODE.
3) Click the button at the back of the sensor's casing.
4) Your Fibaro Door/Window Sensor is ready to operate.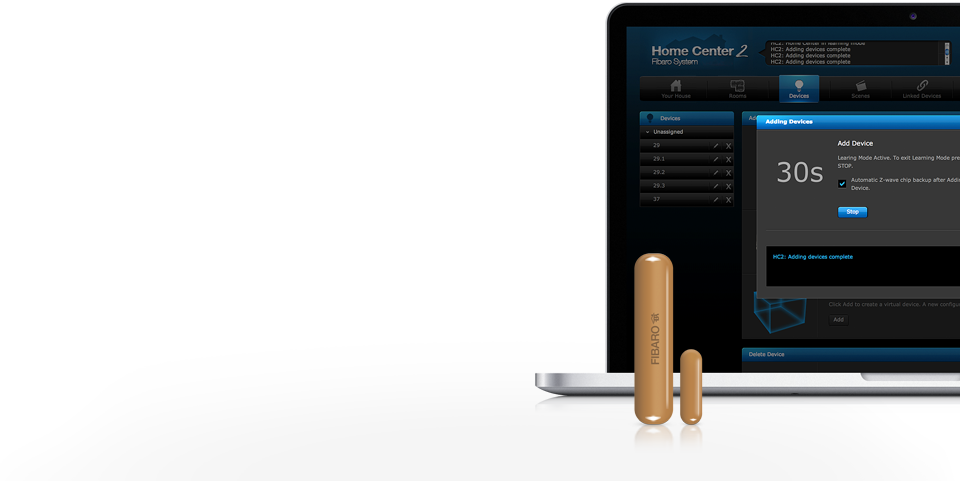 Wireless update
The FIBARO Door / Window Sensor has been designed to receive wireless software updates. Every upgrade of the device takes place seamlessly and without any action. Full automation of the software update is done with comfort and safety guaranteed by the Fibaro team.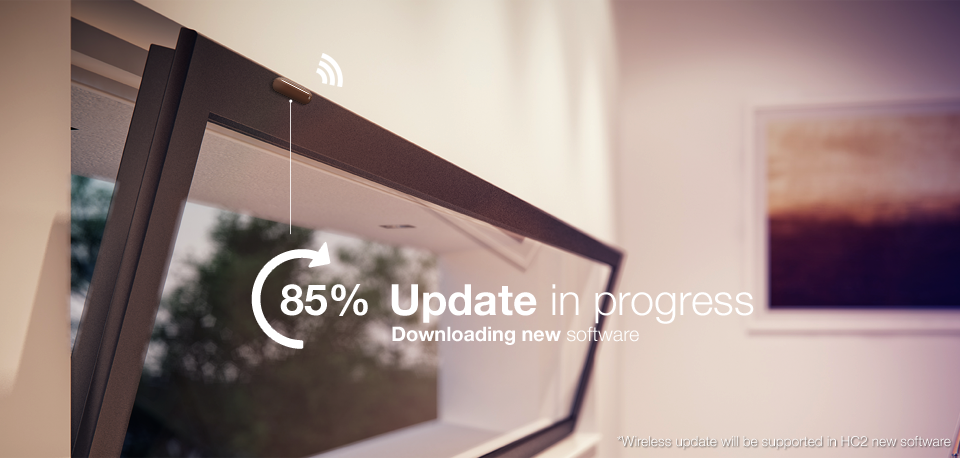 Customized
The Fibaro Door / Window Sensor is available in seven colors. Select the best color match to your home interior designs and enjoy the undisturbed beauty, security and comfort.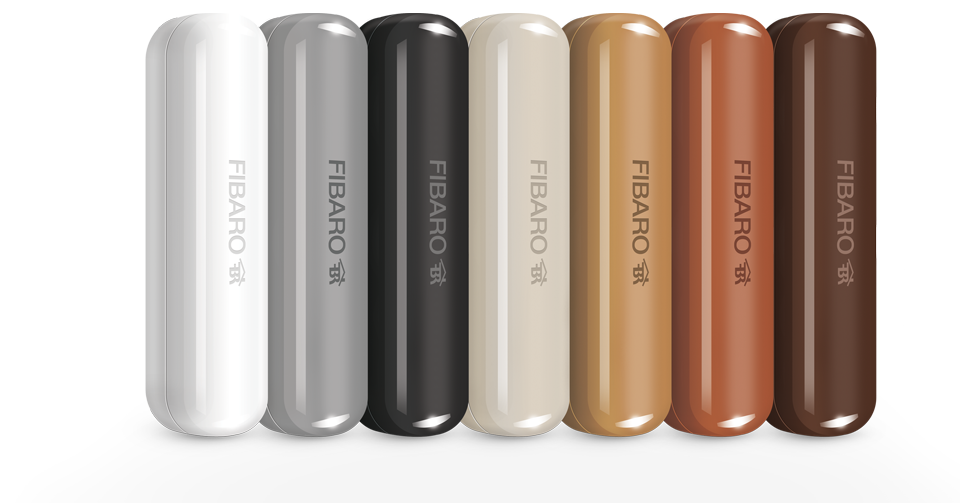 The Interface
It allows installing additional sets of icons for rooms, devices, scenes, etc., without having to interfere with the graphics. We have also made it possible to change the arrangement of particular icons and to move them about in such a way so that the ones used most frequently are always close at hand. Thanks to the Everyday Activities Bar, which we have designed especially for our users so as they may create their own shortcuts to the scenes which they activate most often.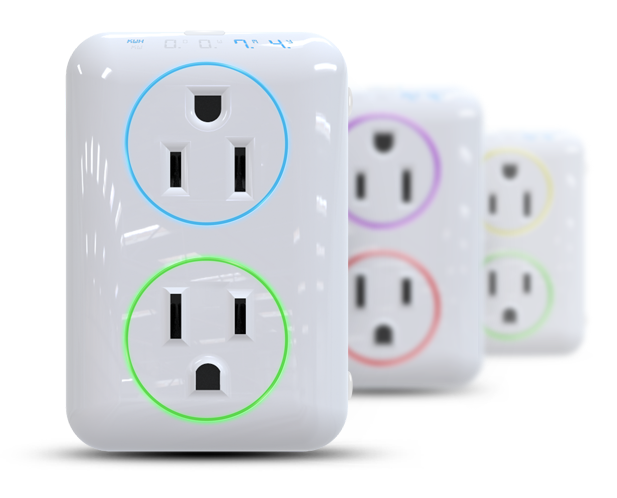 RGB Ring
Load under control
Digital display
Power Consumption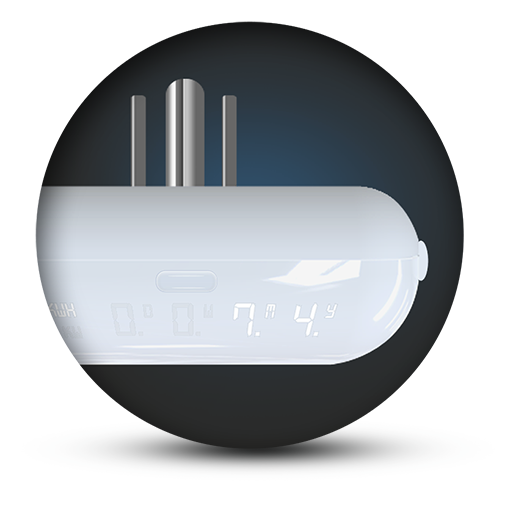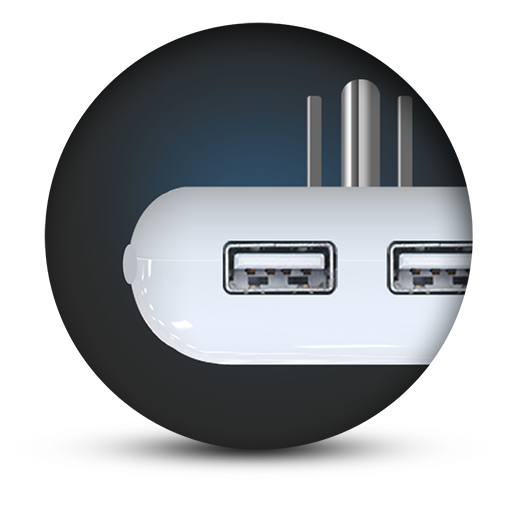 2xUSB chargers
Extra charger
Rotatable plug
90o Left - Right rotate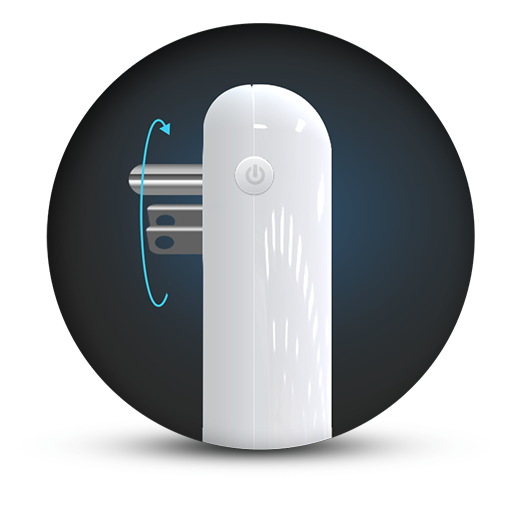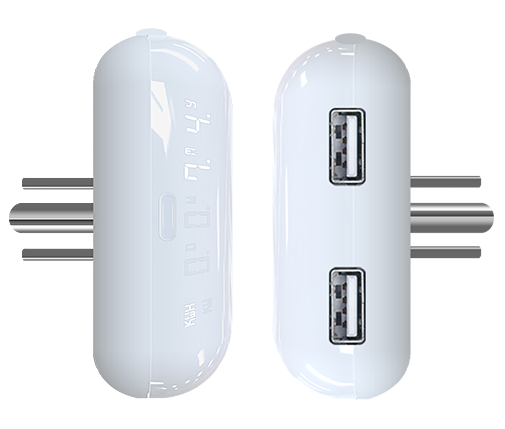 Unearthly potential
Unleash your fantasy decorating a living-room or bathroom. Create illumination effect to match weather conditions, your mood or a special occasion. 3 million colours on hand, waiting for your ideas! Fibaro RGBW Controller is one of a kind, advanced wireless 4-colour LED strips controller. Apart from traditional RGB channels it, also supports the additional white light channel, which allows for adding pastel colours to the colour scheme. The device may control up to four analogue sensors.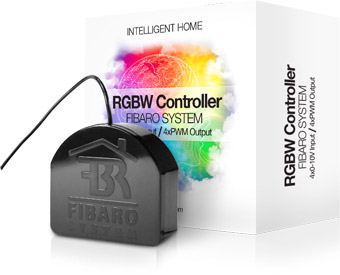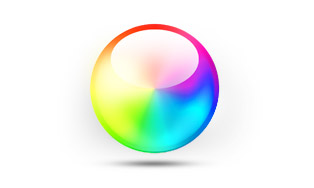 RGBW
Fibaro RGBW Controller controls three as well as four colour LED strips giving you milions of colours of light.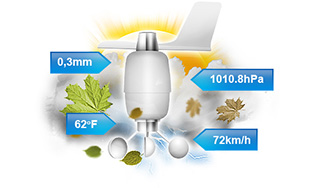 Analogue sensors
Fibaro RGBW Controller has four analogue inputs supporting any sensors, e.g. light sensors, wind sensors, pressure sensors and potentiometers operating within 0-10V range.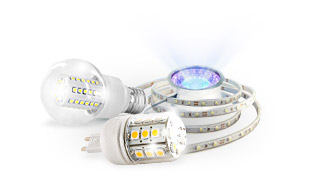 Four output channels
Four output channels allow for connecting and independently controlling each of connected light sources.
Home..
just how you like it
LED diodes are widely used in home lighting. LED lighting
perfectly suits modern design, helping you feel warm and peaceful depending on your mood.


LED's are extremely energy efficient and relatively inexpensive.
As a result they are more frequently used in interior design,
to accent certain design features with a delicate light wisp.
Choose your favorite color
We have created an intuitive interface for your Smartphone or tablet, using which choosing your favorite color for each lighting zone is just a child's play. Favorite color bar will change coloring in a living-room or child's room like a touch of magic wand. Lighting programs slider will help you relax starting calming pastel color transitions, harmonizing with music playing in the background. There's a magic ball as well, letting you choose any color you wish. You are a wizard of your well-being
Create your own colour compositions
We designed four lighting scenes with amazing animation. Immerse yourself in an atmosphere of love and warmth with light simulating lit fireplace, or feel the magic of inspirational morning in the colors of the morning dawn. Recall memories of warm summer weather storms and check the unique magic of colors in the a simulation of a storm. All dangerous situation detected by FIBARO system will be additionally enhanced by visual effects, particularly desirable for the hearing impaired.
Good mood provider
Enchant your interior
After hard day's work you deserve to relax. All you have to do isstart a programmed st_col1 relax scene with a push of a button. Your intelligent home will do the rest- adjust
the temperature and humidity, music volume and lighting scenes,with help of analogue sensors connected to the module.
Pastel colors will help you calm down and forget about the stress. Thanks to
Fibaro RGBW Controller you will experience your own haven of peace.
Feel warm in your house thanks to Fibaro RGBW Controller.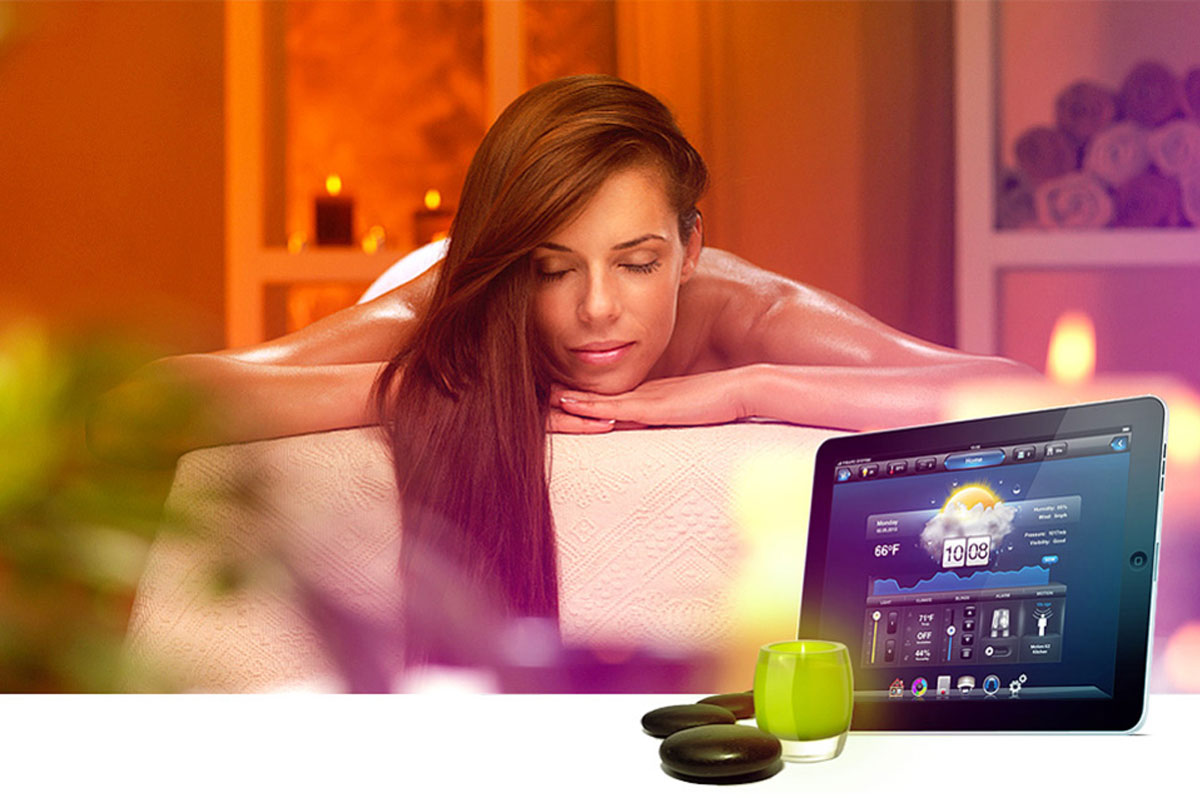 House alerts with colors
Your intelligent house reacts to anything happening around and informs you about it with colors of light. Use Fibaro RGBW Controller not only to arrange interior lighting schemes but also to inform you about any event you can imagine. Thanks to four analogue inputs, Fibaro RGBW Controller may be connected to four independent analogue sensors operating in 0-10V range. Use analogue sensors support to create bathtub illumination informing of water temperature with a colour. Adapt living-room lighting to conditions outside. Help your Fibaro Home Center decide whether to start garden watering depending on signals coming from soil moisture sensors and light intensity sensors.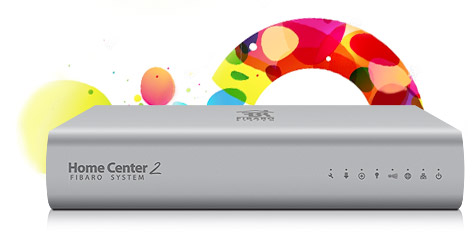 Unbelievable possibilities of analogue sensors
Fibaro RGBW Controller supports up to four analogue sensors, providing Fibaro Home Center 2 with many more information based on which Fibaro System gives you comfort and security. Thanks to information from analogue sensors, Home Center will roll the awnings to prevent them from being torn by wind, close the windows when it rains or gets cold. Analogue sensors will let you experience a true home intelligence.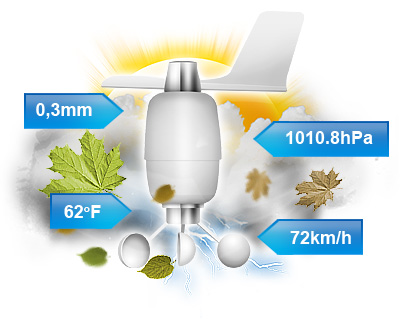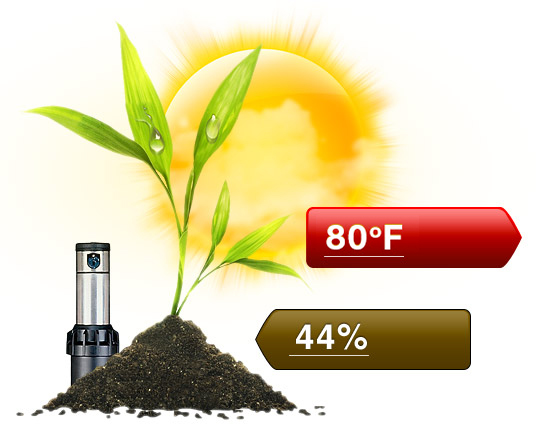 Start garden watering when the soil is actually dry
Taking care about a garden is a real challenge. Thanks to Fibaro RGBW Controller, having a richly green, dense lawn is easier than ever. Connecting a temperature sensor and a soil humidity sensor to Fibaro RGBW Controller will ensure your lawn is watered when necessary. Using information from those sensors Fibaro Home Center 2 will not waste any water on grass wet after morning rain. Enjoy a beautiful, healthy lawn without an effort.

LB-797
Soil humidity sensor

AP-TOPZ5
Outside temperature sensor
Moonlight will help you save electricity
Garden lighting not only looks good after dark but it also increases you and your family safety. Garden lights intensity may be adjusted to match ambient lighting intensity with a suse of light sensor connected to a Fibaro RGBW Controller. This way, when sun sets late in the evening, garden lights will turn on only after sunset. And when full moon shines, garden lights will turn on with minimum output to save electricity
Recommended sensors

SERVODAN 43-198
Dusk sensor

PRODUAL LUX24
Dusk sensor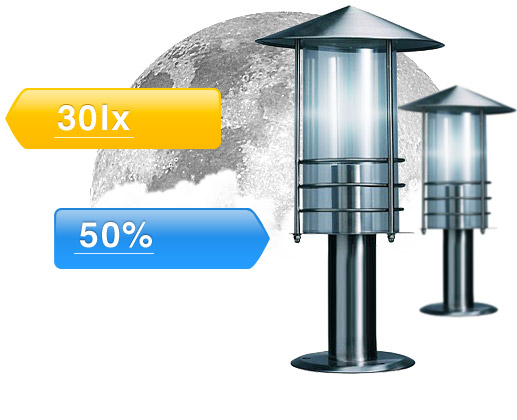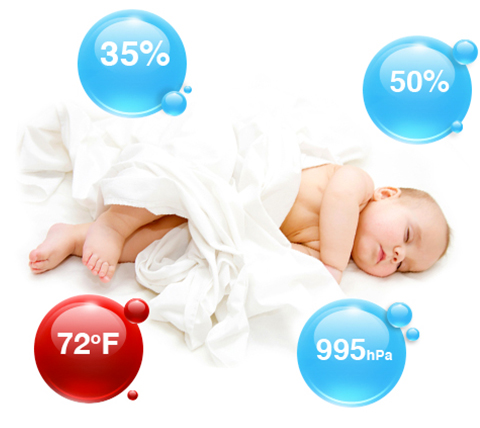 Best child care
Use Fibaro RGBW Controller to continuously monitor conditions in your child's room. Connect four analogue sensors and monitor air quality, humidity, pressure and temperature. You will ensure perfect conditions for your child to sleep and grow up.
Recommended sensors

Thermokon LCN-LW04
Air quality sensor

PRODUAL KLH-100
Inside temperature sensor
Thermokon LCN-LW04
Air pressure sensor

COMET SYSTEM T2214
Air pressure sensor
Fish tank under control
Fish tank is an excellent addition to any interior. Let's you place a fragment of true underwater nature in your living room or bedroom. However, fish tank inhabitants need not only food for living, but also water of specific parameters. Fibaro RGBW Controller supports sensors which let monitor water temperature, CO2 level crucial for proper plant growth, pH level appropriate for fishes or calcium levels. Fibaro RGBW Controller allows for monitoring four parameters which notify the user if any changes occur by push/sms/email or flashing light colors. .
Recommended sensors

CO2
sensor*

Calcium
sensor*

Temperature
sensor*

pH
sensor*
* Jumo dTrans CR02 versatile water parameters transmiter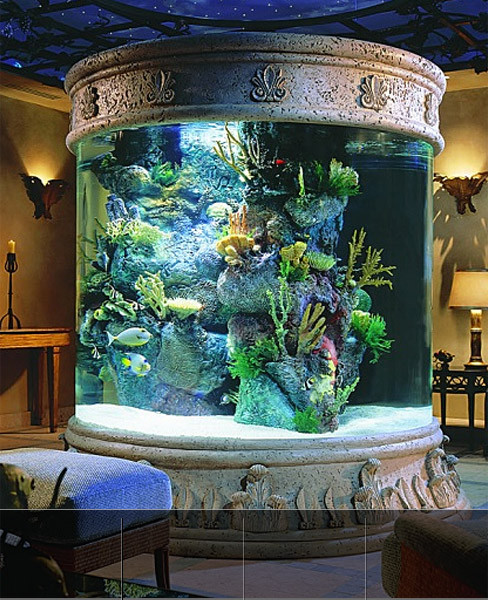 Garage parking master
Fibaro RGBW Controller will help you park a car so that it perfectly fits your garage, and you could get out and unpack the luggage without scratching the paintwork. You can create lighted parking guidance in your garage using color LED strips and analogue proximity sensors. Illuminated color will change depending on distance to the walls.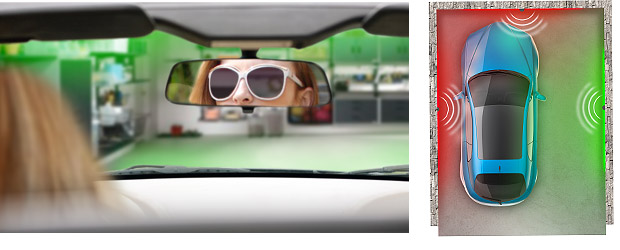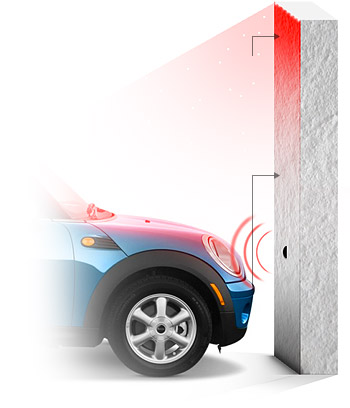 GXSENSOR**
Distance sensor

ROCKAUTOMATION*
Distance sensor
* Sensor during test with the Fibaro System
4 - channel dimmer for 12/24V light sources
Fibaro RGBW Controller allows for managing four independent light
channels. It's the world's only wireless controller allowing for dimming up to
four connected light sources independently. RGBW Controller's versatility
ensures correct operation of 12V and 24V light sources as well, without any
modifications. This way you don't have to col2_stobserve the voltage
of connected light sources.
Kitchen Lights
Choose desired kitchen illumination to match your current activity. Whether
you are relaxing reading a book, listening to music or spending time with
friends, choose illuminated colour manually or use one of predefined colour schemes.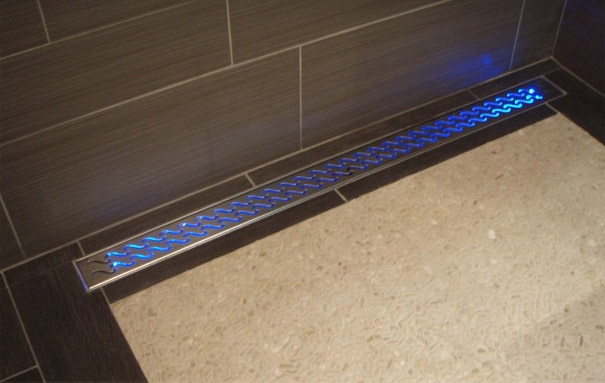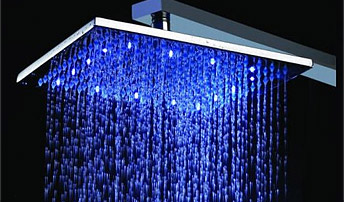 Temperature determines illumination
Illuminate heated floors, wash bowls, showers with LED strips
that change colours depending on temperature. Staggering effect!
Sensors determine illumination
Use sensors to match light intensity to conditions outside. Lights may be
turned on automatically when it starts getting dark and it's intensity will
increase after the sunset.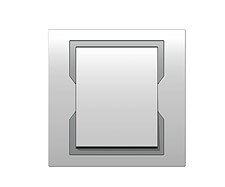 Wall switches
Set desired light colour manually, mixing colours using wall switches. Start other devices automatically, depending on lighting colour set.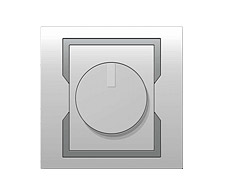 Potentiometers
Potentiometer is a rainbow in your hand. Choose any colour you wish to suit your mood.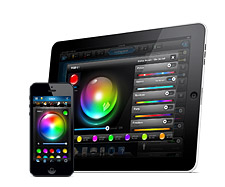 Fibaro Interface
3 million colour possibilities can be selected from the palm of your hand on your mobile device anywhere in the world.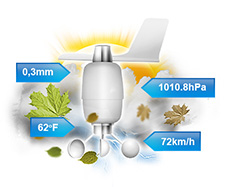 Analogue sensors
Light colours match bathtub water temperature or weather outside? Connect wind or temperature sensor and make it happen
Live power consumption monitoring
RGBW Controller allows you to manage and monitor energy consumption connected to the LED strips. Four channels allow for total or independent measurements of energy consumption. When connected with the HC2 you can check the live real-time power consumption and review usage history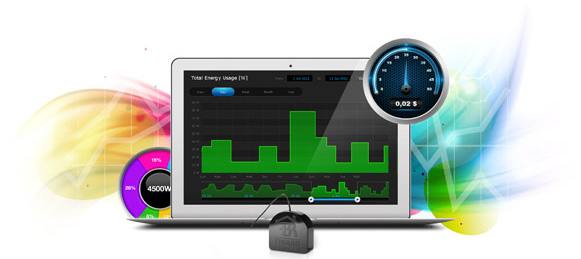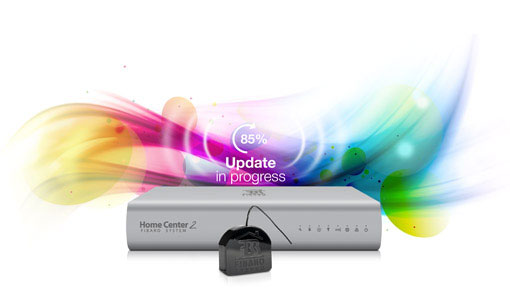 Wireless update
You can upgrade the device wirelessly, by choosing that option in Home Center 2, anytime a new firmware is available. You don't have to disconnect it from a wall socket and waste time connecting it to a computer. Just press update button and enjoy the time with your loved one.
$(document).foundation();